Clinical Studies
Fastnap Clinical Studies

Melatonin is beneficial not only in the treatment of dyssomnias, especially delayed sleep phase syndrome, but also on sleep disorders present in children with attention-deficit hyperactivity, autism spectrum disorders, and, in general, in all sleep disturbances associated with mental, neurologic, or other medical disorders. Sedative properties of melatonin have been used in diagnostic situations requiring sedation or as a premedicant in children undergoing anesthetic procedures.
The renin–angiotensin system (RAS) plays a crucial role in the conservation of extracellular volume homeostasis and blood pressure through complex molecular mechanisms. The augmented activity of circulating levels of RAS components significantly affects the pathogenesis of chronic kidney disease (CKD) and subsequently end-stage renal disease (ESRD).
Melatonin is used to treat sleep disturbances (SDs). Sleep disturbance (SD), unsatisfactory sleep, and altered sleep patterns are common among patients with cirrhosis. Up to 40–50% of patients with cirrhosis report poor and unsatisfactory sleep. The aim of this study was to investigate the safety and efficacy of low-dose melatonin for SDs in early-stage cirrhosis.
COPD is primarily the disease of the lungs; nevertheless, multiple systemic manifestations including poor sleep quality and sleep disturbances have been linked to this illness. Administration of sedative hypnotics is not recommended in COPD patients, as these drugs suppress the ventilatory response and exacerbate sleep-related disorders. Melatonin is an alternative medication that has been widely used to treat sleep disturbances caused by aging and other specific conditions.
Endogenous melatonin levels are inversely associated with age and cognitive deficits. Although melatonin can improve psychopathological behavior disturbances in clinical trials, whether melatonin may also enhance cognitive function remains elusive.
Primary sleep disorders are those not associated with a medical condition, substance use or concurrent psychological disorder. In order to be diagnosed with a primary sleep disorder, the sleep
disturbance must cause significant distress or impairment in social, occupational, or other areas of functioning. Study objective - To investigate the efficacy of melatonin compared to placebo in improving sleep parameters in patients with primary sleep disorders.
Insomnia is the most commonly reported sleep problem in industrialized countries worldwide being present in about 36.8% of the general population. In Italy, such a percentage seems to be even higher. Although insomnia can be an independent disorder, it is most frequently observed as a comorbid condition and may precipitate, exacerbate, or prolong a broad range of comorbid conditions including physical and mental illnesses.
The purpose of this investigation was to compare the effect of alprazolam and melatonin on oxidative stress, glicocalyx integrity
and neurocognitive function in patients undergoing coronary artery bypass grafting (CABG)
Sleep disorders are prevalent in end-stage renal disease (ESRD) involving the majority of patients undergoing hemodialysis. The main objective of treating sleep disorders in patients of ESRD is to correct subjective and objective sleep quality, decrease fatigue and daytime sleepiness, and enhance daytime functioning.
Melatonin is the "clock factor" produced from the pineal gland dominating regular circadian rhythm in mammalians. It is an indoleamine with potent multifunctional pharmacological effects, both receptor dependent and non-receptor dependent effects, including antioxidant and anti-inflammatory activities. The aim of this review is to summarize clinical evidence related to melatonin's effectiveness in the treatment of liver and pancreas diseases.
Diabetes is a major comorbidity in insomnia patients. The efficacy and safety of prolonged-release melatonin 2 mg in the treatment of glucose, lipid metabolism, and sleep was studied in 36 type 2 diabetic patients with insomnia.
Melatonin is a neuroregulatory hormone that has free radical scavenger, strong antioxidant, anti-inflammatory, and immunosuppressive actions. These major properties of melatonin can play an important role in the pathophysiological mechanisms of neurological diseases. In addition, melatonin is necessary for circadian rhythm. Studies have shown that melatonin levels are low in people with neurological diseases.
They conducted the first systematic review and series of meta analyses to assess the efficacy and tolerability of melatonin in children/adolescents or adults with sleep or mental health disorders, using the same set of criteria across disorders and ages.

Melatonin, primarily secreted by the pineal gland, is an anthracemal compound. Its chemical name is N‑acetyl‑5‑methoxytryptamine. Melatonin has strong radical scavenging activity, which serves an important role in pulmonary disorders. Pulmonary disorders are among the diseases that threaten human health.
Add-on prolonged-release melatonin (PRM) in antihypertensive therapy has been shown to ameliorate nocturnal hypertension. Hypertension is a major comorbidity among insomnia patients.
AFD Shield Clinical Studies

In recent decades, numerous scientific investigations have been conducted to study the antidiabetic effects of Annona muricata L. However, no comprehensive evidence-based systematic review regarding this topic is available. Hence,this study was conducted to systematically evaluate the studies of the efficacy of A. muricata in diabetes management. The search terms used were A. muricata/ soursop in combination with diabetes, glucose, and insulin.
Sitaphal is a yellowish green fruit of the family of plant species Annona. The species with an Amazonian origin is recently being cultivated in other countries including India. The fruit has established its medicinal properties for decades. Still it is not a fruit which is commonly consumed as this is a seasonal fruit.In this review we wish to outline the source, recipes, chemistry and medicinal values of the fruit and seek for a reemergence with an initiative both from private and Government sectors.
Evidence suggests that stress can affect diabetes, in terms of both its onset and exacerbation. Stress can have a deleterious effect on glycaemic control and can affect quality of life in diabetics. On the other hand emerging evidence strongly suggests that interventions that help individuals prevent or cope with stress can have an important positive effect on quality of life and glycaemic control.
Coenzyme Q10 (CoQ10) is an essential compound of the human body. There is growing evidence that CoQ10 is tightly linked to cardiometabolic disorders. Its supplementation can be useful in a variety of chronic and acute disorders. This review analyses the role of CoQ10 in hypertension, ischemic heart disease, myocardial infarction, heart failure, viral myocarditis, cardiomyopathies, cardiac toxicity, dyslipidaemia, obesity, type 2 diabetes mellitus, metabolic syndrome, cardiac procedures and resuscitation.
To evaluate the effectiveness and safety of coenzyme Q10 for patients with type 2 diabetes mellitus (T2DM). Methods - Data from randomized controlled trials were obtained to assess the effects of coenzyme Q10 versus placebo or western medicine on patients with T2DM.
Sea buckthorn (SB) has been indicated to have hypoglycemic potential, but its effects on glucose in people with impaired glucose regulation (IGR) are still unclear. This work presents a randomized, double-blinded, two-way crossover study.
Piper betel or Betel vine deep green heart shaped vary famous leaves belongs to the family Piperaceae called Paan leaves in India; rich in nutrients, minerals, vitamins, antioxidants, phytochemicals. Piper betel is mostly use to chew with sliced areca nut, slaked lime,coriander, aniseed, clove, cardamom, sweetener, coconut scrapings etc, but less used remedy.
Spirulina or Arthrospira is a blue-green alga that became famous after it was successfully used by NASA as a dietary supplement for astronauts on space missions. It has the ability to modulate immune functions and exhibits anti-inflammatory properties by inhibiting the release of histamine by mast cells.
Spirulina with its high concentration of functional nutrients, is emerging as an important therapeutic food. This study aimed to evaluate the hypoglycemic and hypolipidemic role of Spirulina.
LIVOCUMIN Clinical Studies

Oxidative stress has been considered a key causing factor of liver damage induced by a variety of agents, including alcohol, drugs, viral infections, environmental pollutants and dietary components, which in turn results in progression of liver injury, non-alcoholic steatohepatitis, non-alcoholic liver disease, liver fibrosis and cirrhosis.
Non-alcoholic fatty liver disease (NAFLD) is one of the most common chronic liver diseases worldwide. The pathogenesis of this disease is closely associated with obesity and insulin resistance. Ginger can have hypolipidemic and antioxidant effects, and act as an insulin sensitizer. The aim of this study was to evaluate the effects of ginger supplementation in NAFLD management.
Non-alcoholic fatty liver disease (NAFLD) is a common liver disease characterized by excess lipid deposition in the hepatic tissue and subsequent oxidative and inflammatory damage. Curcumin is a dietary polyphenol with lipid-modifying, antioxidant and anti-inflammatory properties. This study aimed to evaluate the efficacy and safety of supplementation with phytosomal curcumin in subjects with NAFLD.
The hypolipidaemic drugs have attracted considerable attention because of their potential to prevent cardiovascular disease by retarding the accelerated atherosclerosis inhyperlipidaemic individuals. So, the present clinical study was planned to evaluate the hepatoprotective effect of Katuki (Picrorhiza kurroa) processed in Guduchi on scientific parameters.
Endothelial dysfunction (ED) has been observed in individuals with metabolic syndrome (MetS) and contributes to the initiation and progression of atherosclerosis. The primary management of MetS involves lifestyle modifications and treatment of its individual components with drugs all of which have side effects. Thus, it would be of advantageous if natural products would be used as adjuncts or substitutes for conventional drugs.
LYBER Clinical Studies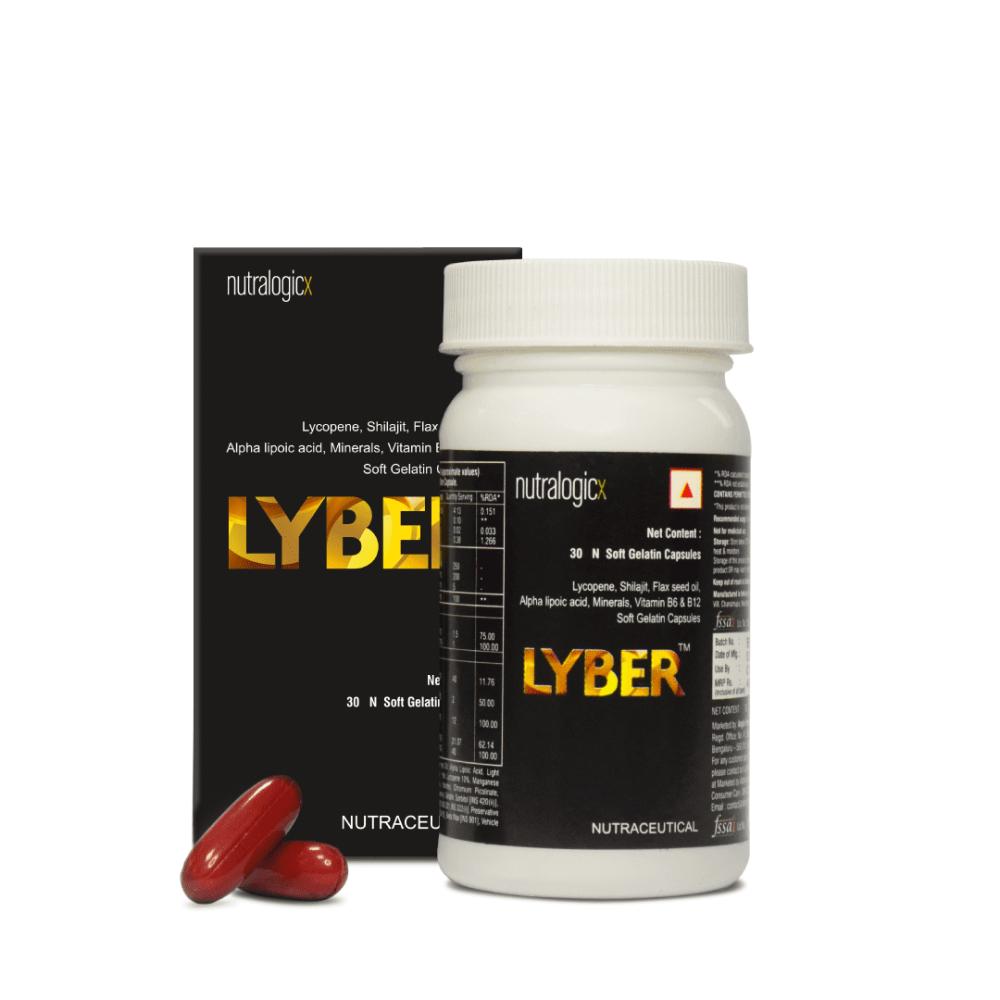 A wide range of substances have been identified as antioxidants exerting their oxidation inhibitory effects by different mechanisms. However, the list of lipophilic natural oxidants is limited. Lycopene is thus an attractive natural compound for lipid scientists and technologist. As a strong singlet oxygen quencher it can stop lipid oxidation at an initiation stage.
Shilajit is in use for the management of bronchial asthma, diabetes, genitourinary infections, wound healing and stomach ulcer. It is also used in cold stress and as a general tonic. Shilajit shows a positive response on memory and anxiety. In the Ayurveda, it is also recommended as antiaging, as medhya rasayana, adaptogenic and mast cell stabilizing property.
Purified Shilajit, an Ayurvedic rasayana, was evaluated in healthy volunteers of age between 45 and 55 years for its effect on male androgenic hormone viz. testosterone in a randomised, double-blind, placebo-controlled clinical study at a dose of 250 mg twice a day.
Shilajit (mumie), a natural multi-component herbomineral ethnomedicinal food, is used as a traditional medicine for enhancing the quality of life and for management of health ailments in many countries of the world.
Various research studies indicate that shilajit exhibits antioxidant, anti-inflammatory, adaptogenic, immunomodulatory, and anti-dyslipidemic properties. Animal and human studies indicate that shilajit enhances spermatogenesis. Furthermore, animal and human data support its use as a 'revitalizer', enhancing physical performance and relieving fatigue with enhanced production of ATP.
Shilajit is one of the Maharasa (classified drug) mentioned in classical texts. The first reference of Shilajit in classified text Charaka Samhita states that "metals like gold and others present in the rocks which receive heat and exudate is called Shilajit ". It is most important drug of Ayurveda and Folk medicine system.
Shilajit is a safe, fluvic mineral complex exudate that is common to Ayurvedic medicine and is composed of fulvic acids, dibenzo-α-pyrones, proteins, and minerals. The purpose of this study was to examine the effects of 8 weeks of Shilajit supplementation at 250 mg·d− 1 (low dose) and 500 mg·d− 1 (high dose) versus placebo on maximal voluntary isometric contraction (MVIC) strength, concentric peak torque, fatigue-induced percent decline in strength, and serum hydroxyproline (HYP).
MERLON LC Clinical Studies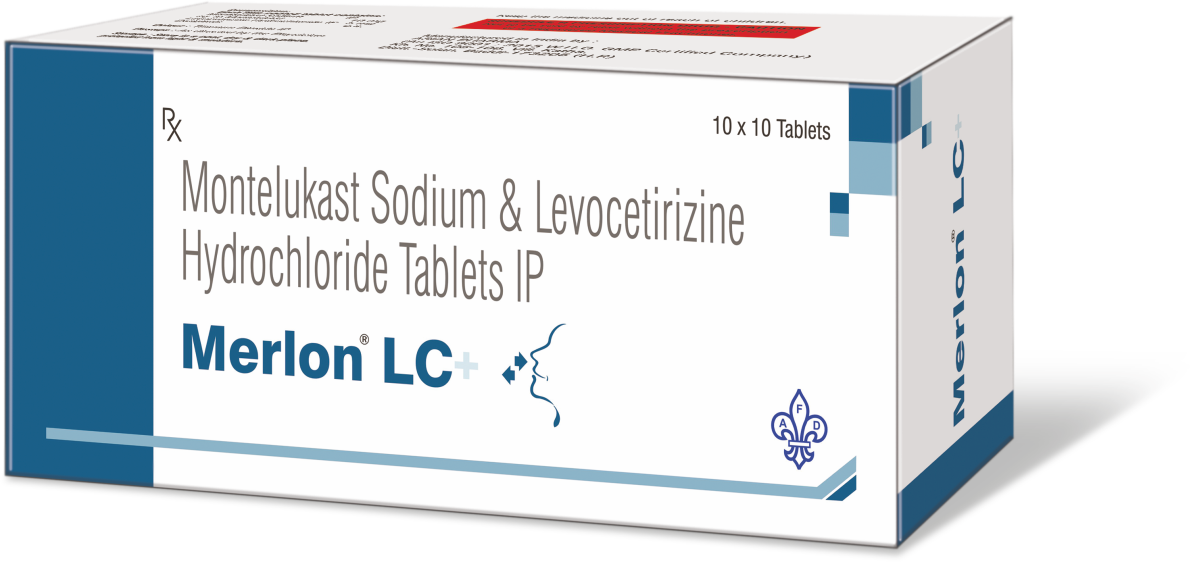 The aim of this study was to evaluate the efficacy and safety of a fixed-dose combination of montelukast and levocetirizine in subjects with perennial allergic rhinitis with mild-to-moderate asthma compared to montelukast alone.
To evaluate efficacy, safety and tolerability of Montelukast 10 mg+levocetirizine 5 mg FDC compared to either montelukast 10 mg or levocetirizine 5 mg given alone in seasonal allergic rhinitis (SAR) patients.
Chronic urticaria is a vexing problem for patients and treating physicians alike. The EAACI/GA2LEN/EDF/WAO guidelines advocate an increased antihistamine dosage up to four times the standard, before adding leukotriene receptor antagonists. Patients are frequently intolerant of these higher dosages.
The aim of this study was to evaluate the efficacy and safety of a fixed-dose combination of Montelukast and levocetirizine in patients with perennial allergic rhinitis with mild to moderate asthma compared with the efficacy and safety of Montelukast alone.
We investigated the effects of 6 weeks of treatment of persistent allergic rhinitis with either Montelukast alone, desloratadine alone, levocetirizine alone or the combination of Montelukast and either desloratadine or levocetirizine on patient quality of life.
LYBER - M Clinical Studies
The prevalence of infertility has increased significantly in recent decades, and it is currently estimated to affect approximately 15% of the population worldwide. Oxidative stress contributes to male infertility, and antioxidants have been recommended for treating idiopathic oligoasthenoteratozoospermia (OAT).
Carnitine is essential for energy metabolism and spermatozoa maturation. Combining L‐carnitine and L‐acetylcarnitine with micronutrients has been investigated as a treatment for infertility in men. Male fertility issues are major contributors to infertility in couples, accounting for approximately 50% of these casesThe causes of male infertility remain unknown, and are ambiguous in almost 40%–60% of these patients.
In order to be able to fertilize oocytes, human sperm must undergo a series of morphological and structural alterations, known as capacitation. It has been shown that the production of endogenous sperm reactive oxygen species (ROS) plays a key role in causing cells to undergo a massive acrosome reaction (AR).Astaxanthin (Asta), a photo-protective red pigment belonging to the carotenoid family, is recognized as having anti-oxidant, anti-cancer, anti-diabetic and anti-inflammatory properties and is present in many dietary supplements.
Infertility affects approximately 15% of couples trying to conceive, and a male factor contributes to roughly half of these cases. Oxidative stress (OS) has been identified as one of the many mediators of male infertility by causing sperm dysfunction. OS is a state related to increased cellular damage triggered by oxygen and oxygen-derived free radicals known as reactive oxygen species (ROS).
Excessive amounts of reactive oxygen species (ROS) cause a state of oxidative stress, which result in sperm membrane lipid peroxidation, DNA damage and apoptosis, leading to decreased sperm viability and motility. Elevated levels of ROS are a major cause of idiopathic male factor infertility, which is an increasingly common problem today. Lycopene, the most potent singlet oxygen quencher of all carotenoids, is a possible treatment option for male infertility because of its antioxidant properties.
Mucuna pruriens (Fabaceae) is an established herbal drug used for the management of male infertility, nervous disorders, and also as an aphrodisiac. It has been shown that its seeds are potentially of substantial medicinal importance. The ancient Indian medical system, Ayurveda, traditionally used M. pruriens, even to treat such things as Parkinson's disease.
Zinc (Zn) is the second most abundant trace element in human, which can't be stored in the body, thus regular dietary intake is required. This review explained the physiological and pathogenesis roles of zinc in men's health and its potentials in germination, quality of sperm, and fertilization.
LYBER - PCO Clinical Studies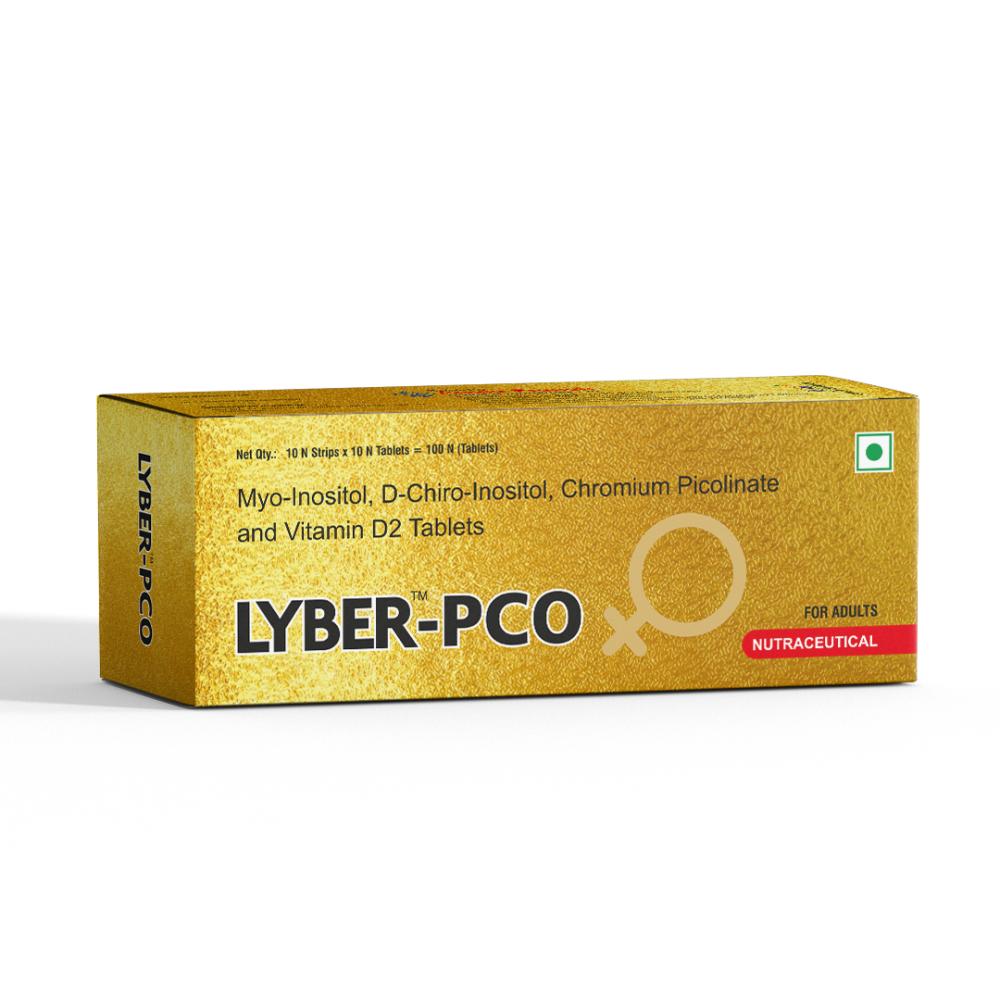 Polycystic ovary syndrome (PCOS) is a heterogeneous endocrine pathology, affecting up to 10-15% of women during the reproductive age,and constitutes one of the leading causes of infertility in industrialized areas.In fact, PCOS is characterized also by several reproductive, metabolic and cardiovascular problems, that can exert a high number of health consequences during the life span.
PCOS is the most common endocrinopathy of reproductive-aged women, affecting 6-8% of this population. Chromium picolinate is an extremely safe and highly tolerable trace mineral present in normal diet enhances gut absorption. In women with PCOS, Chromium picolinate improved glucose tolerance.
Polycystic ovary syndrome (PCOS) is the most common endocrine disorder of reproductive-age women, affecting 11–18% of the population. Insulin resistance (IR) and the resultant hyperinsulinemia are key metabolic features in the pathogenesis of PCOS. Chromium picolinate (CrP) improves insulin sensitivity at the insulin receptor level, which should theoretically help with the IR and the obesity seen in PCOS.
Myoinositol supplementation is inadequate to improve oocyte or the embryo quality & pregnancy rates in women having polycystic ovary syndrome. The role of D-chiroinositol supplementation also remains unclear or unknown, The new combination was considered as superior if the percentage of relived patients receiving D-Chiroinositol + Myo inositol is 10 percentages higher than the percentage of relived patient who received Myo inositol + Placebo (folic acid).
Deficiency in the usage and/or tissue availability of myoinositol (MI) and/or D-chiroinositol (DCI) in PCOS patients could likely lead to insulin resistance typical of this syndrome. Recent studies have demonstrated that combined supplement containing both MI + DCI in their physiological plasma ratio 40:1 is able to improve the endocrine profile, ovarian function and the insulin resistance in PCOS patients.
Hormonal disorder common among women of reproductive age is polycystic ovarian syndrome (PCOS). Metformin by decreasing insulin resistance improves ovulation in women with PCOS.2 Myo-inositol a naturally occurring member of the vitamin B group regulates glucose transport and follicle-stimulating hormone signaling in the ovary whereas glycogen and insulin-induced androgen synthesis is mainly controlled through d-chiroinositol.
The most important factor affecting oocyte quality is a woman's age. However, nowadays many couples choose to delay parenthood. Among the different factors identified, two have been shown to be highly predictive: myo-inositol (MI) and melatonin (M).
Metabolic disturbances are present in a majority of the women suffering from PCOS, i.e. 30–40% have impaired glucose tolerance and insulin resistance with compensatory hyperinsulinemia, and as many as 10% will develop type 2 diabetes mellitus during their fourth decade. Vitamin D deficiency has been proposed as the possible missing link between insulin resistance and PCOS.

Best Quality
Delivering the best quality for a century.
Science Logic
Offering products steeped in science.
Innovation
Providing innovation-driven solutions.